Engineering
the E-business!
We engineer modern systems and design optimum IT solutions
to suit your ambitions and targets! Outsourcing of software
development to E-ngineers is a win-win situation.
REQUEST AN EXPERT
DISCUSS A PROJECT
What We Do

CONSULT
Our main goal is the continuous innovation of e-business services, products and processes. We listen carefully to our customers to optimize the profit of their IT activities. We take a thorough approach to consulting and guide the customer through the different phases.

DEVELOP
We design and implement Web, Mobile and Desktop applications. We do it as a project or set up a team that works in Agile at a long-term. In whatever form we collaborate, we allow users to benefit from additional competence, new technologies and higher quality.

DELIVER
We deliver DevOps projects where we facilitate the management of business tasks and IT flows. We harmonize and automate the IT processes of customers to increase their effectiveness and deliver real value.
What's new?
Fear of missing out and microservices: why and when to switch
Microservice architecture has many advantages. You and your team are eager to come under its benefit. A switch to micro services can be drastic for your company. Is this switchover not underestimated? What should you think ...
Learn more
Outsourcing vs. Outstaffing. What to choose? Or do you prefer in-house?
Digitalization has a huge impact on software development. Online is key! Do you lack qualified and affordable people? Are you going to outsource projects? Or, do you choose to add external forces to your existing team? Read ...
Learn more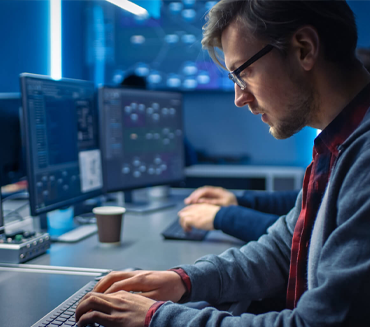 Software Development Trends in 2021
The world of software tools, frameworks and development methods is changing rapidly.  There are a number of tools and environments that you need to keep an eye on in 2021. We've listed them for you in this trend report.
Learn More
We commit ourselves to our clients to deliver
the best of our competences!
Analysis
& Architecture
Business Analysis
Technical Architecture
Technical Analysis
Software Engineering
& Development
Code programming
Code revision/ renovation
Deployment & integration
Quality Assurance
& Maintenance
Application testing
Maintenance and support
End-user documentation and training
Result-oriented and cost-saving outsourcing